Lovely Andrea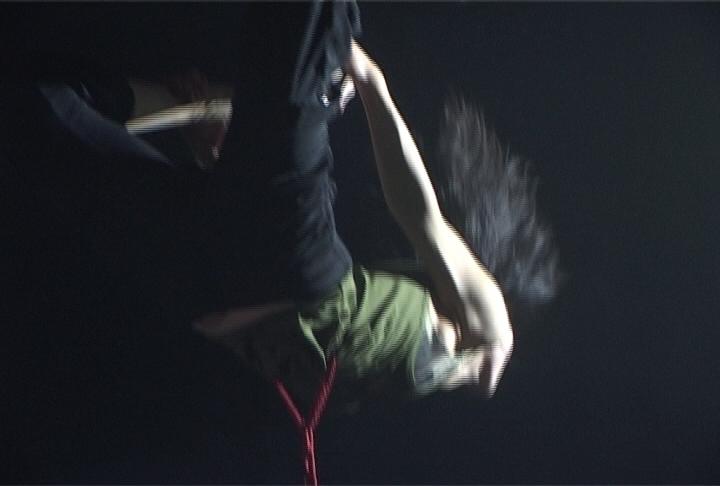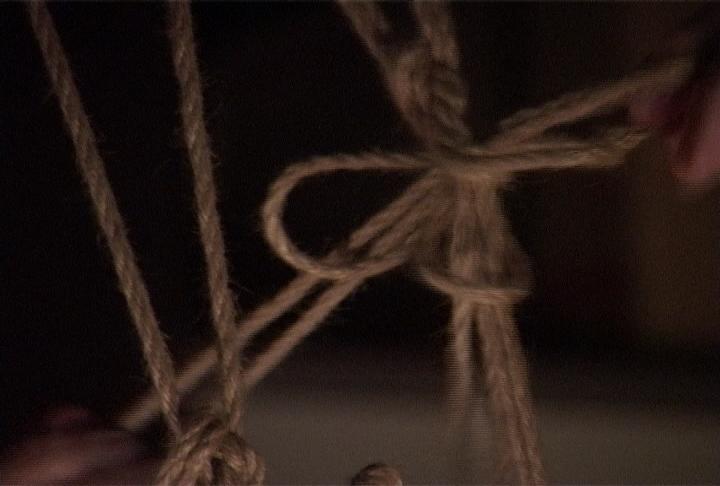 If all pictures became current, in that they pass by and in doing so, are connectable with one another, whether elegantly or obscenely, through translation or association—how would it be possible to fasten down a picture? Hito Steyerl's light-hearted picture translations are about fastening things in an elegant-obscene way: In Tokyo she is looking for a photo series that she posed for in 1987 as a "rope bondage" model. While making inquiries with experts and authorities in the bondage arts (which are mainly marketed online nowadays), she found what she was looking for in a magazine archive. The cinematic tension is extremely high just now says the translator while Steyerl looks through photos of herself from her days as a film student. Something that fastens, but no biographical final revelation; instead, the discovered photographs fall into the slipstream of an informally networked archive of a life with bondage as conveyed by the media—in the sense that the master and slave games, as they're called, have become entirely normal.

Citizen Kane-like detectives cross through clever cascades of images to which bits of super hero cartoons are added, along with Depeche Mode, X-Ray Spex, girls with needle and thread in the video clip sweatshop. Picture censorship once applied to tied-up models, today it applies to the "Spiderman" teaser with the net stretched between the Twin Towers; some types of captivation are war crimes, others take their place in the art world. And the interpreter, who is a bondage model, student (of web design!) and, of course, a translator, assumes the role of filmmaker as an alter ego; she is suspended in the act of self definition qua self suspension. Self suspension occurs in history and also, as reversed in Steyerl's montage: from face and identity to "genital," not understood as looking at, but as the logic of the origins (to be bared), the dissolution of medial clichés in power issues and—in the production shots that frame the film—the redemption of the act in the accident.
Drehli Robnik



Lovely Andrea relates to the search for a photography taken in Tokyo around 1987. The photo shows the artist half naked and tied up, a bondage picture in the nawa-shibari style, characterised by women bound and suspended in the air. Today Japanese bondage is a subgenre of pornography. But it developed from the martial arts, hojojutsu being the act of using of a rope to capture, transport and torture criminals. An aestetic act from the start, only in the late 19th and early 20th centuries did it acquire a sensual and erotic dimension.

"But in a wider context, there is bondage all over the place", the video states at one point, to the accompainment of a montage of Japanese bondage girls, the American superhero Spiderman and bound captives in the US-detainment camp at Guantanamo Bay. By associatively linking desire and bondage, voluntary subjection and captivity, dependencies, networks, complicity, and cliques, Steyerl creates a polysemous play of thought: Who are the string pullers? Who are the puppets? How do things stand with the pictures?

Bondage in Lovely Andrea is a universal metaphor.
Manuela Ammer
More Texts
dialoguelist / transcript 'Lovely Andrea'
Lovely Andrea
Hito Steyerl, Ger/J 2007, 30min
Dialogue list


-Camera is rolling!

-Hito, our trip to Tokyo is almost over.
But I still ask myself: what is your film about?


Titles: LOVELY ANDREA
A FILM BY HITO STEYERL

-Hi, how are you?

Text ON SCREEN: NAWA SHIBARI – JAPANESE ROPE BONDAGE

(TEXT ON SCREEN)HAMBURG: ROPEMASTER
M.T.J. GRIMME/DRACHENMANN

-It was a Shibari-shoot!

-But I have no idea with whom or whatever. That's the story.

TEXT ON SCREEN: I AM LOOKING FOR A JAPANESE BONDAGE PICTURE OF MYSELF MADE IN TOKYO 1987

-Even back then they had a huge amount of magazines!

-Maybe you'll find the picture

-But there are 100 publications every month.

-Allright. I have all kinds of stuff.

-There are hundreds of these

-The style of lighting was similar

-Like that

-Wait! For a moment I really thought it was me.

-NO, that's not you.

-You'd really have to be lucky to find it.

-There is three and a half thousand just in these bondage series.

-And why is it so popular?

-Uhm…the so called "victims enjoy the floating" they experience. Simply floating.

-And if you asked Anna and Nicole, the two girls I perform with, …

-, one will say "I just love to see the rope marks"

-and the other: "only when being roped I feel free."


Title : FREEDOM

Title: FORCE

-They like to mention the old samurai techniques, who also played with rope.

-The Chinese police also uses these techniques

- when they rope a delinquent for execution

-The Japanese used them on American POWs during WWII

-Another martial arts school in the US releases instructive videos,

-…which clearly state that one must not apply these techniques on people.

-In the US, they have these… - Except in Guantanamo…

Text: TOKYO: PHOTOSTUDIO
SANWA EROTICA PUBLISHING

-Hello!

Text: OSADA STEVE ROPEMASTER

-Hello!

-Good morning! Good morning!

-Good morning!

-Are you rolling?

-Already rolling?

-I'm excited!

-You are? I will translate today. My name is Asagi Ageha.

-Aren't you a model, Ageha?
Yes, but today, I'll be translating.


TEXT ON SCREEN: A la recherché du cul perdu

-She was a bondage model,

-She came to look for that picture

-Did you do this job at this period?
Oh really?

-Where?

-Do you remember the publisher? The cameraman?

-Not at all?

-1987?-1987!

Title ON SCREEN: FREEDOM

-Back then there were lots of restrictions.

-Move your butt a little, please.

-It was most dangerous for us, when the police became relaxed.

-It was best when they were extremely bothersome.

-If the police is very active, they cheer things up.

-The more restrictions the better. I agree.

Titel ON SCREEN: Pictures restricted around 1987


-When they relaxed, the production collapsed.

-The restrictions disappear.
That's right.

-Somebody said: readers are attracted if we work around the restrictions.

-We should behave as if we were just as restricted as then.

-Now they aren't strict enough.

-That's really bad!!!

-This is a German documentary filmmaker called Hitomi

-During film school in 1987 in Japan,

-she once worked as bondage model in Tokyo

-the goal is to look for that picture.

-Really? Who was the cameraman?
She doesn't know.

Text: ROPEMASTER: NUREKI CHIMUO

-Which agent? – She doesnŽt know.

-Was it a photo? A video?

-You don't know the address either?

-Just once?
Yes.

-I really don't know.
-In 1987?

-Master, did you tie her up?
What? Was it me? No!

-Interesting that she's looking for her bondage picture.

-Talking about bondage pictures…

-if you'd count them, there must be tens of thousands, or even billions…

-If you want a bondage picture of yourself I will tie you up.

-We will make a new one!!!

-Let's do it!
A nice one!

-It's maybe a good idea! (type error on the screen)

TITLE ON SCREEN: Picture restricted in 2001: withdrawn spiderman teaser
TITLE ON SCREEN: Pictures restricted in 1987: tied up women.


-Hello, hello! Can I have a cigarette?

Text: SANWA EROTICA: MATSUMOTO YUTAKA; EDITOR

-Are you rolling already?

-May I smoke, is that ok? I am a heavy smoker.

-Chain smoker!

-She came to shoot a documentary film

-The content is: when she came in 1987

-She once only did a bondage shooting.

-In 1972?
In 1987.

-How should she look for this picture?
Well…

-That's a nice mystery novel. It's mysterious, it sounds good. (Type error, thats)

-Do you think it makes no sense to look for it?

-No no no. It's very impossible, err, important

-Very interesting thing.

-Japanese SM is submissive…It's based on the feeling of shame.

-It's based on the feeling of shame.
Shame.

TEXT: SHAME SHAME SHAME SHAME

-On my first photo location as editor

-I was put naked and tied up.
Naked? Naked.

-And they dripped candle wax on me.

-And Mr. Nureki dripped it on me from here.
And then from there.

-He said: from here it's hot.
From here it's not.

-You should understand the model's (or models') pain. (type error models)

-An editor has to know!

-And was there a whip? Of course!

-Did you have fun? Yes!

-What is shame? Libido of the brain!

-Libido; Freud's concept.

-Genitals are not between the legs

-but between the ears.

-Inside the brain.

-It's a world of the imagination.

-This also often happens with news pictures, within one picture

-history is being compressed.

Text: SHAME

-To offend somebody with the feeling of shame!

Text: SEX ARCHIVE (FUZOKU SHIRYOKAN)

-May I come in?
-She is from Germany, and 20 years ago, she worked in Japan as a bondage model

-We are looking for that picture

-May we film the interior of the library?

-Yes, but please refrain from showing people, I mean us.

-That's '93.

-That's '89 around here.

-SoShowa63 (1988) is around here.

-Let's have a look.

-January.

-She doesn't remember the location?

-No. Just that it was Japanese style.

-This is also slightly Japanese.

-Was it a documentary shooting or staged?

-Was it like this one or was it a (documentary) shooting

-Wait a minute!

-I will continue shooting from behind

-And action!

-Text: THE SEARCH IS RESTAGED FOR TELEVISION ----

-You should be forward, she should be back.

-Otherwise I can't see your face.

-I'm shooting.

-Was the camera team quite large? (type error on screen)

-4 people.

-Endo, are 4 people rather few or many?
-That's basically the size of a team.

-Then it's probably somewhere around here.

-Is this the last leg of the search for your photo?

-Is it you?

-Looks like me.

-It's a bit extreme. Did you do that?

-I didn't catch that

-Once more please.

-That's me!

-Next, next…

-Whoow! We found it! We found it!

-We checked it already – I asked you to check it again to be sure… We are lucky!

Text: ROLE PLAY 1987

-Not so bad. Want to see what I shot?


Text: ROLE PLAY 2007
Text: ROLE PLAY 1987
Text: ROLE PLAY 2007


TEXT: ITŽS A LOT
Text: LIKE LIFE!

-But this photo – can we see it?

- Like life

-Originally she came here to shoot a documentary film

-The plot is dramatic, right now the filmic tension is extremely high

-I don't know where to start to explain…-
And it all happened now?

-Yes, the tension is a bit extreme.

Text: S/M SNIPER, TOKYO
EDITORIAL OFFICE
-Err, to get straight to the point,

-we are facing an investigation…

-Let me explain; a woman is here

-who came to Japan 20 years ago and worked as a bondage model

-she was looking around for this picture taken 20 years ago

-and she found it today at the sex archive before coming here.

-Can I see them? - Yes.

-We saw the picture and believe that it might be your work, master.

-This is the period.

-Isn't this Tanaka Kinichi's work?

-That's by Tanaka Kinichi! There is no doubt about it.

-…by Tanaka Kinichi.

-She is here now and would like to meet you, if possible…

-Actually she is also recording our phone conversation…

Text: TANAKA KINICHI
PHOTOGRAPHER

-Are you rolling already?

-Did we meet before?
It seems so.

-You don't remember me, do you?
Err, no…

-Do you remember me?
Well, no.

-He's our main cameraman.

-Don't you remember him at all?

-Do you have the picture?

-If I see it, I might remember…

-Should I sit here?

-No please over here…
No, the background is bad over there…

-Oh, this one…

-Do you remember?

-You really changed!

-I remember the picture very well

-But I wouldn't exactly recognize you now!

-Does he remember anything about the models?

-Many girls were half tricked into it…

-Some were told it would be a different kind of job and then talked into it.

-I think many people felt cheated.

-They only realized on the set what they were supposed to do. Some also cried.

-It was such a dangerous and underground field…

-I think it was also heavily mafia dominated.

-Not all of them were mafia dominated.

-So back then, the girls were scouted on the street and immediately photographed?

-That was common and they didn't get paid either!

-When they became really desperate and said that they just wanted to quit at any price

-…then they said we won't pay you but set you free…

-and stole about 1Million Yen (around 6.000Euro)…

-Things like these happened back then.

-What are you doing, by the way?

-I am a show performer…

-What kind of show?
Like nude shows?

-Well, I do self suspension…
Self bondage? Yes.

-And basically I perform with Steve in bondage shows


TEXT ON SCREEN: BONDAGE IS WORK

-Does it sometimes hurt?

-Sometimes it hurts, depends on the point…

Text: WORK IS BONDAGE
-You mean in a normal society everything is bondage?

-Yes. Not exactly with rope but everybody is sort of in bondage

-That one is bondage.

-But in a wider-context there is bondage all over the place

-You are connected to other people through the net

-You are tied to other people like in a web…

-Don't you know my website?

-No, I haven't seen it yet.
Over here.

-I think your picture might be in there…

-There are about 2-300 girls in there

-The web or the net…

-Inside the web!

-Why were you looking for this picture?

-Oh, this is interesting:

-She was working under the name Andrea

-this was her friend's name…

-but this friend was murdered and it seems as if she was a terrorist.

-After she was murdered the insurgents put her photo on banners and marched around…

-And that she was put on a flag in Turkey

-and in Japan "she" appeared in an SM magazine in bondage,

-this was interesting to her and that's why she wanted to find the picture.

Text: YOUNG GIRL'S SEX GAMES

-Aren't my pictures good?

-It's art!

Text: IT'S ART!

-Ladies and gentlemen: the event you've all been waiting for!

-the unveiling of the art museums' newest painting

-the 10million$ masterpiece…

-Please write a letter to Andrea

-and then we'll send you a photo

-B:90; 2: 60; H:98

-Bondage beautiful girl Andrea…

-this gorgeous body sweats

-in Roppongi disco clubs every night.

-Oh really?

-Andrea is a businesswoman

-who tries to earn money in Japan

-which is economically prospering

-and by smelling Non-Japanese…

-actually this sentence is a bit embarrassing.

Text: CUL RETROUVE!!!

-Do they also write this poetry next to your photos?

-Sometimes, yes!

-But soon I noticed: to do shows is a bit…

-like masturbation.

-so I started to do self-suspension, which is not

-just showing screams or wails

-by being tied up or dominated by somebody else

-Self suspension can be entertainment and high quality

-It's not bondage, maybe.

-It's self suspension!

Text: INDEPENDENCE
-Has it got to do with independence?

-Actually, yes.

-When flying in the air, I really fell free.

-on the other hand I'm bound with rope to the center of something.

-I feel these two feelings at the same time

Text: INDEPENDENCE

Text: DEPENDENCE

Text: DEPENDENCY

-Maybe I can't live without this feeling anymore

-What are you studying, Ageha?

-Web design!

-Do you have your own website? – Yes!

-I've got a pretty good rope trick of my own!

-It's gone!

-Oh no! Someone's stolen the museums' priceless painting!

-It's disappeared! As if by magic! (type error on screen)

-I liked your answer, but…

-Oops. Shit. Light! But you'll have to do it again.

-Nobody knows this woman.

-I'm rolling again.
My knee is hurting.

-You have to repeat the question.

-So, do we start again?
Once more same question:

-I still don't know:
what is your film about?

-Just take care…Whoops!


Text: A FILM BY HITO STEYERL
WITH

ASAGI AGEHA

PERFORMER AND ASSISTANT DIRECTOR

OSADA STEVE

ROPEMASTER AND TOKYO PRODUCER

AND

MATTHIAS T.J. GRIMME –DRACHENMANN
NUREKI CHIMUO
MR. ENDO
MR. NIMI
NOZOMI
MATSUMOTO YUTAKA
RUDOLF SCHMITZ
MICHAEL GOLDBERG
WATANABE YASUJI
TANAKA KINICHI
AND MANY OTHERS…

EDITOR
STEFAN LANDORF

TRANSLATIONS
SYLVIA SCHEDELBAUER
OSE IZUMI

MUSIC CONSULTANT
LORENZ SCHROETER

SPECIAL THANKS
BORIS BUDEN
ESME BUDEN
OSADA STEVE/ASAGI AGEHA
MR. ENDO, SANWA SHUPPAN
FUZOKU SHIRYOKAN
RUDOLF SCHMITZ

SPECIAL LIGHT
MICHAEL GOLDBERG IVW VIDEO

Commissioned
By
Documenta 12

Roger M. Buergel
Ruth Noack

Line producer
Rike Frank

Production manager
Manuela Ammer

-I should get some Botox, I think.

-But you consider yourself a feminist?

-Yes, definitely!



Orig. Title
Lovely Andrea
Year
2007
Countries
Germany, Japan, Austria
Duration
30 min
Category
Documentary
Orig. Language
japanese, german
Subtitles
english