Hyperbulie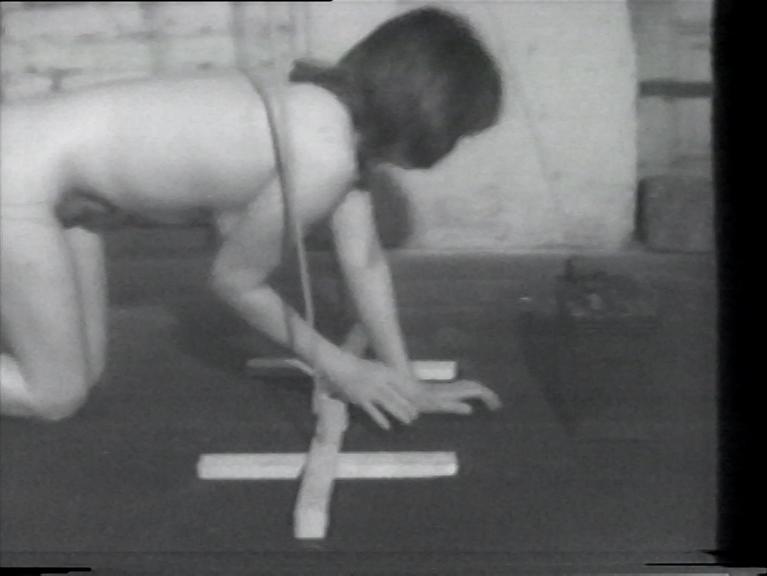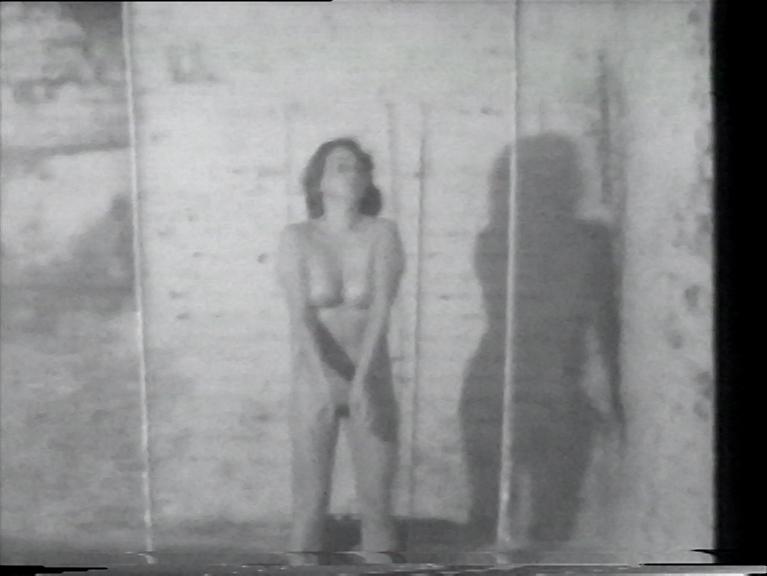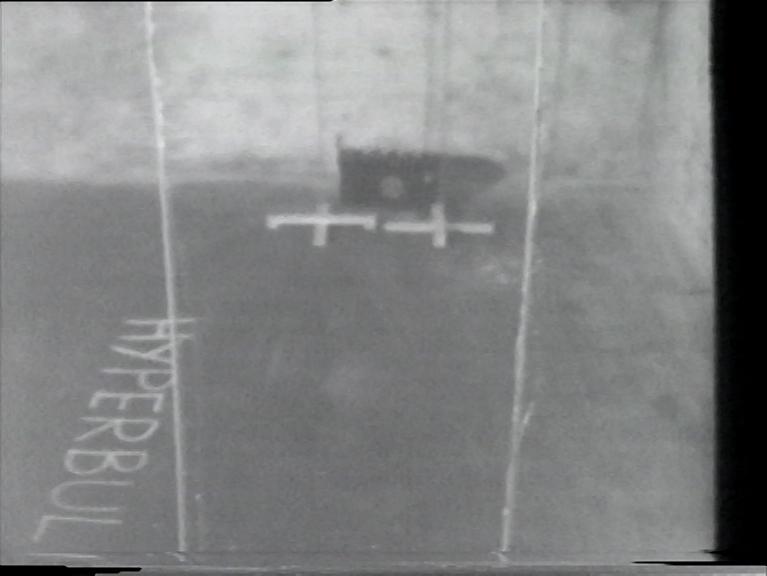 The narrow passage or dangerous passage is a common motif in both funerary and initiation mythologies. I step inside and move through a corridor of electrically charged wires, constantly experiencing painful shocks and sinking to the floor. But I accept the challenge and, in a somewhat pathological increase in willpower, I press my head against the wires again and again. Society is a closed, structured space, which regulates all human energy through painful barriers. Only through an effort of will to overcome the pain (which is at the core of society) is one able to achieve a state of free expression.
(V. E.)

In Hyperbulie, VALIE EXPORT, naked and with her hands bound, moves around in a space bordered by electrified wires. Each contact between her body and her head sets off a shock that the artist inflicts upon herself for several minutes, the time it takes her to get across. The violence of crossing this electrified corridor is not of a theatrical nature, the risk that she is taking is clearly different from that of the spectacles conducted by the Viennese actionists – this violence is of an entirely different nature. Instead, VALIE EXPORT is proffering her female body, while retaining the impassive air that characterises her work: the expression on her face freezes, because she denies her pain. Hyperbulie is part of a trilogy of actions (including Kausalgie and Asemie or the Inability of Expressing Oneself Through Facial Expressions, which also date from 1973) in which VALIE EXPORT expresses the inability to express herself through body language. The artist submits her body to violent tests that are both physical and mental. This woman's body is a counter-power addressed to patriarchy. The artist de-eroticises the female body through the violence that she subjects it to, but she does not devote herself to a masochistic practice. The enterprise is a metaphorical one here, when we consider that the framework of the corridor of electrified wires may represent the authoritarian structures of the social framework. VALIE EXPORT undergoes the critical experience of a repression (which may also be a release) and the body thus becomes a political problematic.
(Lou Svahn)

Hyperbulie is a performance work that pushes the body to its physical extremes. The performance elements are first established: a framework of wires are connected to electric batteries. VALIE EXPORT appears and makes contact with live electricity as she negotiates the wire construction.
Orig. Title
Hyperbulie
Year
1973
Country
Austria
Duration
7 min
Category
Avantgarde/Arts, performance
Orig. Language
No Dialogue