Short Life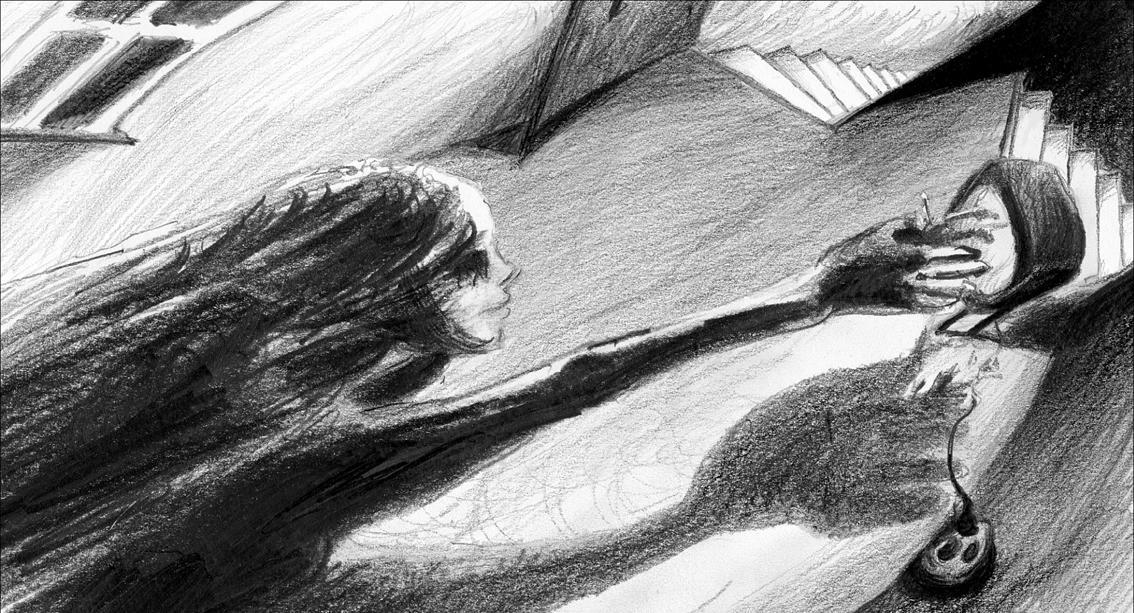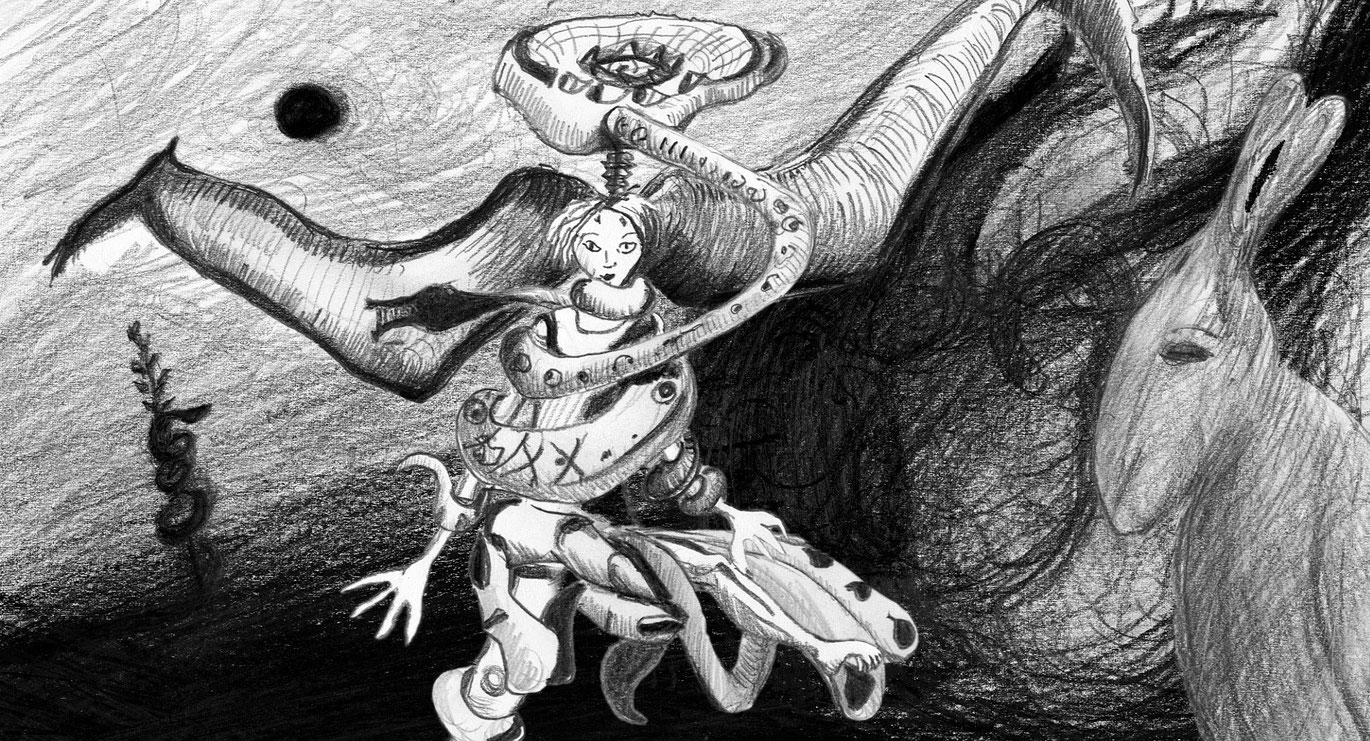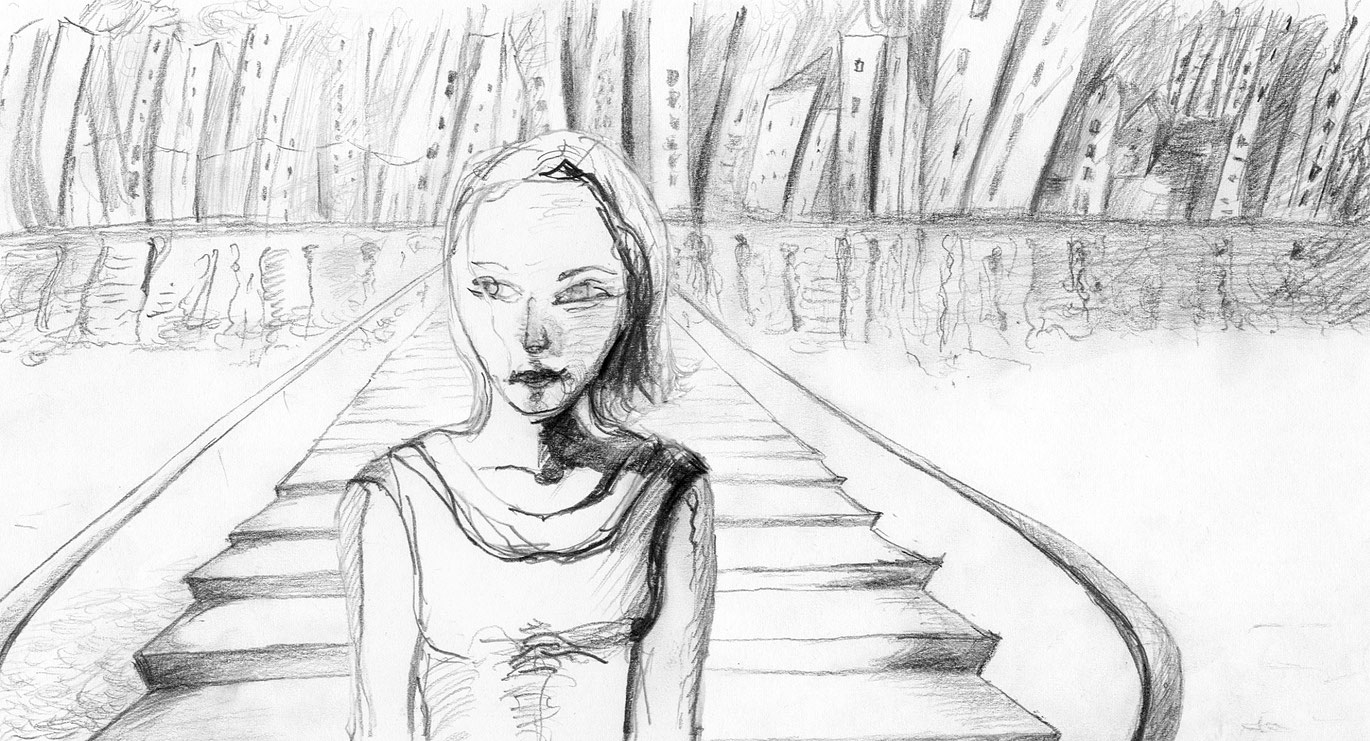 kurzes leben (short life) is a drawn film. Each of its drawings is a tiny masterpiece, complex and precisely made. This produces unexpected shifts in perspective, transformations and changes in lighting that lead from one state to another, all of them in harmony with the film´s psychological development. Lines outline the figures, chiaroscuro floods the spaces, its dynamism is the engine driving the action, as if it had replaced the passage of time - a flowing time made visible by graphite.
A penniless but pure-hearted little girl crystallizes, a fragile being, nearly naked, and filled with a yearning for and curiosity about life and love. And she finds love, smiles impishly and with relief at the sight of crossing beams of light from the two lovers. Immediately after that they leave her abruptly.
Guided by a belief in the just logic of fairy tales, we want to see the innocent child receive the reward she deserves. But the prophecy proves to be a fraud, the talisman will not be able to protect her. Fate does not exist, though a fateful series of horrendous and mysterious accidents takes place.
"Can things get any worse? Yes, they can."
Almost tragicomic, this descent that never seems to end, all the way to Hell, where the Devil himself is at work, with his enigmatic cruelty, the father of real-life splatter.
The girl´s prosaically sober comments are unexpected. Her frank language does not detract from the film´s darkly romantic poetry, intensifying it instead. Bluntness has always been a close companion of subtlety.
"Then screw love, I say!"
Deceived, stripped bare, abandoned, martyred, given up on by the doctors, the young girl, barely breathing now, has survived:
"... but I think I´ll have made it soon."
Whether she truly does beat life and succeed in dying or vice versa is left open. More probable is that her quota of unhappiness has simply been met - the spiral can only move upward after this deepest of depths. Or the girl, and we as well, must merely wake up to escape this nightmarish tale. Each awakening is also a rise from the ashes.
Work on the film lasted a total of four years.

(Mara Mattuschka)

Translation: Steve Wilder
More Texts
Dialogue list english
SHORT LIFE – dialog list, english



Gypsy woman: I can read your palm.

You have no luck in love!

Narrator: The woman promised to help her.
In return she wanted her money,
her jewellery, her watch, her coat...
The girl was only left with her shirt.
What she got was a root and a sugar cube.

The girl walks home, followed by
a host of male shadows.
With great effort she reaches a house.
The magic is beginning!

Young man: Hi.

Girl: Hi.

Young man: Bye, bye , see you...
sometime.

Girl: Where are you going, my love?

Narrator: Her question echoed as if
in an endless corridor.

She swallowed the sugar
and threw the root down the toilet.

Girl: To go...

Girl: The woman said, as sweet as the sugar with
the root, my luck in love would be.
Fuck love then.
I can read books, paint,
go for walks, drink, smoke
and then die...

...I'm sitting here in this badly drawn bus,
thinking about death,
worms, snails and snakes.
But before that one can read the Bible, watch TV and
fill out lottery forms.

I have to see my aunt.
She's always helped me when I was sad.
Where could she be?
Damn, it's getting dark, so early?





(Inscription:) Whoever falls on this stone,
belongs to the Devil's own.

Devil: Now...
you are...
mine!

Girl: The Devil has a belly button!

Devil: The Devil is a parasitic creature.
He is one and many at once.
But enough lecturing. I have other qualities,
rrrrrr!

Girl: I'm being pervaded! No!

Shit, I want to get out of this mess!

Narrator: She closed- as she had done hundreds of times in the night of her dreams- her eyes, and asked, before she regained consciousness, the question to which she already knew the answer: can it get even worse?

Doctor 1: There's nothing we can do.

Doctor 2: Too bad.

Girl: Yes, now it is worse, but I think, I'm gonna make it soon.

Dialogliste deutsch
KURZES LEBEN – dialogliste, deutsch




Zigeunerin: "Ich kann dir aus der Hand lesen"

Zigeunerin: "Du hast kein Glück in der Liebe!"

Erzählerstimme: "Die Frau versprach ihr zu helfen. Dafür
wollte sie aber ihr Geld, ihren Schmuck, ihre Uhr, ihren Mantel... Dem Mädchen blieb nur ihr Hemd. Dafür bekam sie eine Wurzel und ein Stück Zucker."

Erzählerstimme: "Das Mädchen geht nach Hause von vielen männlichen Schatten gefolgt. Mit Mühe und Not erreicht sie ein Haus. Der Zauber hat begonnen!"

Junger Mann: "Hi!"

Mädchen: "Hi."

Junger Mann: "Bye,bye...Ich gehe. Bis irgendwann..."

Mädchen: "Wo gehst du hin, meine Liebe?"

Erzählerstimme: "Ihre Frage verhallte wie in einem Korridor ohne Anfang und Ende."

Mädchen: "Gehen.."

Mädchen (denkt): "Die Frau sagte, so süß wie der Zucker mit der Wurzel, so würde mein Glück in der Liebe sein – dann scheiß ich halt auf die Liebe. Ich kann Bücher lesen, malen, in der Gegend herumgehen, trinken, rauchen, und dann sterben..."


Mädchen (denkt): "Ich sitze im schlecht gezeichneten Bus und denke über den Tod nach, Schnecken, Würmer und Schlangen. Aber man kann vorher ja auch noch die Bibel lesen, fernsehen und Lottoscheine ausfüllen..."

Mädchen (denkt): "Ich muß zu meiner Tante, sie hat mir immer geholfen
wenn ich traurig war! Wo ist sie denn nur? Verdammt, es wird schon dunkel, so früh!"

Teufel: "Jetzt...bist...du...mein!"

Mädchen (denkt): "Der Teufel hat ja einen Nabel!"

Teufel: "Der Teufel ist ein parasitäres Wesen. Er ist eins und viele zugleich. Aber genug des Dozierens! Ich habe andere Qualitäten, rrrr."

Mädchen: "Ich werde einverleibt! Nein!!"

Mädchen: "Scheiße, ich will raus aus dieser ganzen Sache..."

Erzählerstimme: "Sie schloß, wie schon hunderte Male in der Nacht ihrer Träume die Augen und stellte, bevor sie das Bewußtsein erlangte, die Frage deren Antwort sie aber schon wußte:"

Mädchen: "Kann es gar noch schlimmer werden?"

Arzt 1: "Da ist nichts mehr zu machen."
Arzt 2: "Schade..."

Mädchen: "Ja, jetzt ist es schlimmer, aber ich glaube, bald habe ich es geschafft."





Orig. Title
Kurzes Leben
Year
2007
Countries
Germany, Austria
Duration
9 min 3 sec
Category
Animation/Cartoon
Orig. Language
German
Subtitles
English