C-TV (If I Tell You I Like You...)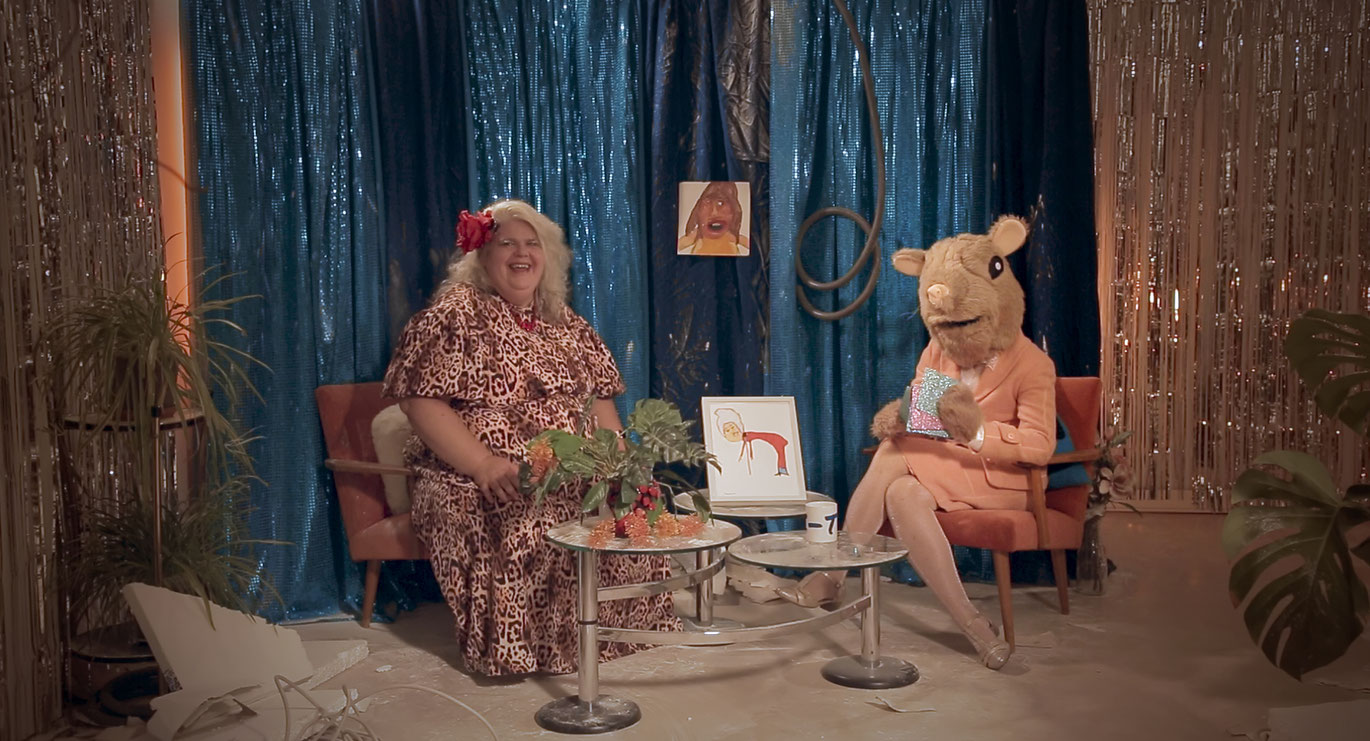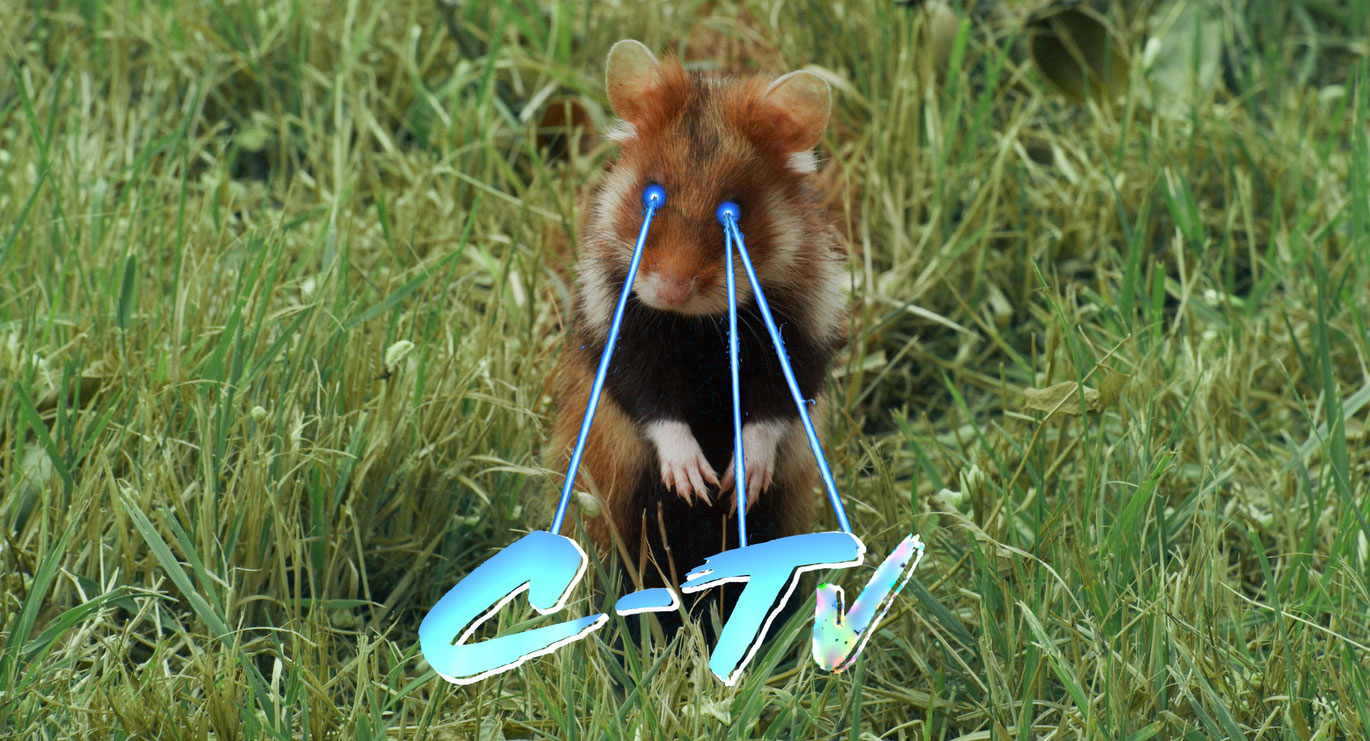 Onscreen, we see wild hamsters with X-ray eyes, a zombie soldier on the telethon phone, a grandiose performance in a song contest, and at the center, a talk show offering an alternative to the heteronormative TV mainstream, featuring interviews and workplace portraits of the two guests Em Gruber (of the Office of the Monitoring Committee for the rights of people with disabilities) and Iris Kopera (Self-Advocacy Center for People with Learning Difficulties); and in between, quotes by the late artist-author Ianina Ilitcheva interpreted in sign language, which give C-TV a kind of chapter structure while the whole thing is framed by newsroom reports about mysterious seismographic tremors to society.

C-TV (If I Tell You I Like You...) by Cordula Thym and Eva Egermann, about the fictional television station of the same name, is a "colorful genre multiverse" (Madeleine Bernstorff) that links utopian sci-fi cinema, docufiction, performance, readings and more, and thereby challenges the ableist, heteronormative media world. People with disabilities, chronic illnesses, and neurodiversity are often presented as "narrative prostheses" (David T. Mitchell & Sharon L. Snyder), and thus a kind of counterfoil to notions of "wholeness" or "normality", mostly seen purely as recipients rather than producers of culture. In contrast, directors Egermann and Thym, in a playful, humorous, poetic way, while experimenting with form and structure, create a world (including open captions) in which participation and inclusion, agency and visibility are realized far more strongly than in our current world. For this, C-TV rightly received the Diagonale Prize for Innovative Cinema in 2023.

In the end, the film crew and the protagonist stand next to each other and look up at the sky: "From a vulva-shaped crack in the cloud cover there falls a broad, golden sunbeam." (Marie-Noëlle Yazdanpanah)
The earth has been shaken, the television studio destroyed, C-TV goes on air: Hedi, the plush talk show host welcomes people with disabilities who offer insight into their daily lives and their artistic and political work. An (unfortunately) fictitious TV show opposing the tyranny of a heteronormative and ableist society: radical, critical of representation, humorous, and barrier-free.
More Texts
Diagonale-Preis Innovatives Kino'23 der Stadt Graz: Bester innovativer Film, Experimental- oder Animationsfilm (Award)
Jury Statement:
"We, the jury for the Diagonale Prize Innovative Cinema, spent our time discussing how the films in our selection made us imagine better futures, new cinemas, new ways of working, and being in the world. We took to heart an American writer, film blogger, and critic Girish Shambu's manifesto for a new cinephilia, where he imagines a new cinephilia with 'a broader definition of pleasure: it values the aesthetic experience of cinema, but it demands more. It finds pleasure, additionally, in a deep curiosity about the world and a critical engagement with it.' This year's winner for us encompassed all of these things, a playful and accomplished experimentation with form and structure which flows directly from the foregrounding of the infrastructure of representational justice in filmmaking and watching. In this film, we found space and joy imagining a world where we and the world might be changed through a critical engagement with issues of disability justice through film, we look forward to seeing what the future holds for this filmmaking team."
Jury Innovatives Kino:
Jemma Desai (Autorin, Wissenschaftlerin, Programmerin, UK)
Lisl Ponger (Bildende Künstlerin, Filmemacherin, AT)
Maja Osojnik (Komponistin, Musikerin, Klangkünstlerin, Labelbetreiberin, AT/SI)
Feminismen im österreichischen Kino: Eindrücke von der «Diagonale». Noemi Ehrat, akut (Article)
"Dieses Jahr stachen gleich mehrere unkonventionelle Werke heraus, die sich alle mit Gender, Performance und Identitäten auseinandersetzen, wenn auch auf jeweils sehr unterschiedliche Weise. Da wäre etwa der Gewinner der Kategorie «innovatives Kino», C-TV (Wenn ich Dir sage, ich habe Dich gern…), in dem die Filmemacherinnen Eva Egermann und Cordula Thym in Form einer imaginären, von einem Hamster moderierten Talkshow Menschen mit Behinderungen zu Wort kommen lassen. Der humorvolle Kurzfilm schafft es dabei, die angesprochene Diskriminierung zu queeren, indem etwa eine Dragqueen das Studio putzt oder Crip-Trans-Aktivist*in Em Gruber von der morgendlichen Routine mit Testosterongel erzählt."

akutmag.ch


Aus: Madeleine Bernstorff, "Ironie im Körperdickicht", Bildpunkt Magazin #65 (Frühling 2023) (Article)
(...)
"Nun ist der neue Film C-TV (Wenn ich Dir sage, ich habe Dich gern …) von Eva Egermann und Cordula Thym (30', 2023) [7] eine feine Entdeckung. Sein visueller und ermächtigender Überschwang verleitet mich zum Aufzählungsmodus: Die beiden haben mit ihrem Filmteam ein farbenfrohes Genre-Multiversum geschaffen: Sci-Fi und agency-Dok, TV-Talkshow und Songcontest-Auftritt, Pausenjingle und Wellness-Übung, Literaturlesung und Malereibesprechung. Das ist längst nicht alles. Maske und Szenenbild [8] des Films schillern, glitzern zwischen Golden Girls-Bezügen, Statement-Keramik, [9] John Waters-Referenzen, Trash-TV, BlutFellStaub, einem grummelnden Zombie als popkulturellem Wiedergänger eines kriegsversehrten Soldaten und den Lichtblitzen wild gewordener Feldhamsteraugen vom Meidlinger Friedhof. Eine Gebärdensprachdolmetscherin [10] interpretiert die poetischen Texte der usbekisch-österreichischen Autorin Ianina Ilitcheva [11] in einer sehr körperlichen Sinneseindrucks-Übersetzung. Dokumentarisch inszeniert werden die beiden Gäst_innen Em Gruber und Iris Kopera [12] dann vor Ort bei ihrer Arbeit im Monitoringausschuss für Menschen mit Behinderungen und im Selbstvertretungs-Zentrum für Menschen mit Lernschwierigkeiten in Wien besucht. Die Filmemacherinnen haben die Audiodeskription für Gehörlose als Genre ernst genommen und mit fröhlich-lautmalerischem Überschuss erweitert, mit vielen Anklängen an Alltags- und Comicsprache. Da "legt der E-bass los" nach dem "Einsetzen der Bossa Nova-Percussion" und das "Aufschütteln" des von John Waters abgekupferten Kissens namens "Flop" endet mit einem temperamentvollen "Pow". Und "Seufz": Die Arbeit ist getan, die putzende Dragqueen tänzelt davon. Vor allem aber durchbricht der Film brachial und zart zugleich über utopische Science-Fiction-Elemente immer wieder die ableistische Welt. Gleich zu Beginn hat eine starke Erschütterung das TV-Studio verwüstet und infolgedessen "die soziale Erdatmosphäre und ihren Inklusionsquotienten auf 99% verschoben", so die Nachrichtensprecherin des Abendprogramms.

Die liebevoll-routinierte Talkmasterin Hedi (Rheumarr) Hamster in zartem Rosa und mit pelzigem Hamsterkopf begrüßt ihren ersten Gast Em Gruber. Das experimentelle Studiogespräch mit Gruber ist von unwiderstehlicher ironischer Leichtigkeit, wenn sich die Gesprächspartner_innen über ihre jeweiligen Morgenroutinen zwischen Morgensteifigkeit, Medikamentenübermaß, Testosteroneinreibung und halbstündige Depressions-Slots austauschen. Die Maskierung mit dem Hamsterkopf und Egermanns eindrucksvolle Stimme gepaart mit minimalen, nicht-mimischen Gesten des Kopfnickens, Aufstützens usw. verschieben die Gespräche bei allen subjektiven Erzählungen in einen strukturellen und entrückten Meta-Raum, der die gemeinsamen Erfahrungen weniger personalisiert und engführende Sichtbarkeiten abschmettert. Und zum Abschied blickt das Team in fröhlicher Interdependenz nach oben: "Aus einem muschiförmigen Riss in der Wolkendecke fällt ein breiter goldener Sonnenstrahl". [13]"

In Bildpunkt #65, "Ironie & Bruch" [Frühling 2023]

[7] Festival-Premiere auf der Diagonale 2023 in Graz, interna-tionale Premiere bei den Kurzfilmtagen Oberhausen April/Mai 2023.
[8] Szenenbild, Kostüm und Maske sind von (Performance-)Künstlerin Berivan Sayici, die oft mit Drag arbeitet.
[9] Wie die Corona-Vase von Cordula Thym.
[10] Die selbst gehörlose Barbara Schuster, die den Verein Kinderhände zur Unterstützung gehörloser Kinder gegründet hat.
[11] Ianina Ilitchevas Buch über ihre Selbstisolation 183 Tage (Verlag Kremayr und Scheriau 2015) und ihre Sammlung von Tweet-Texten #blutundkaffee (Frohmann Verlag 2017) sind Inspirationen für den Film.
[12] Beide haben im Crip Magazine publiziert, dem langjährigen Projekt von Eva Egermann. https://cripmagazine.evaegermann.com/
[13] Ianina Ilitcheva: @blutundkaffee, Nr. 39, a.a.O.


Orig. Title
C-TV (Wenn ich Dir sage, ich habe Dich gern...)
Year
2023
Country
Austria
Duration
30 min
Category
Avantgarde/Arts, Documentary
Orig. Language
German
Subtitles
English