Godsterminal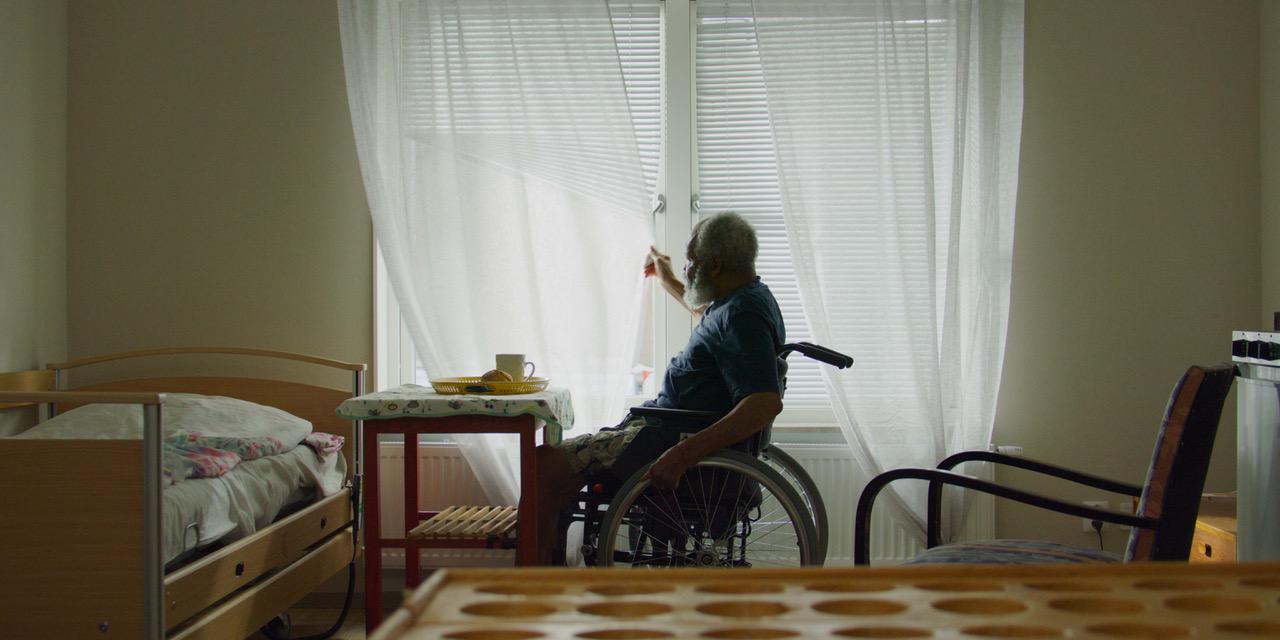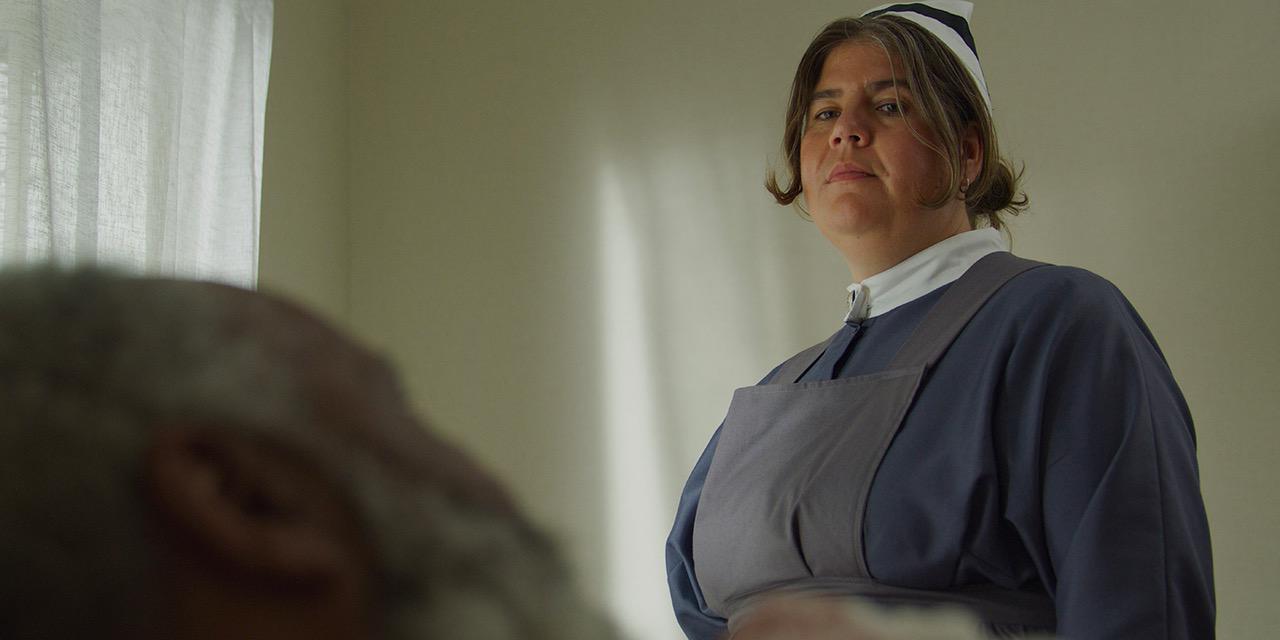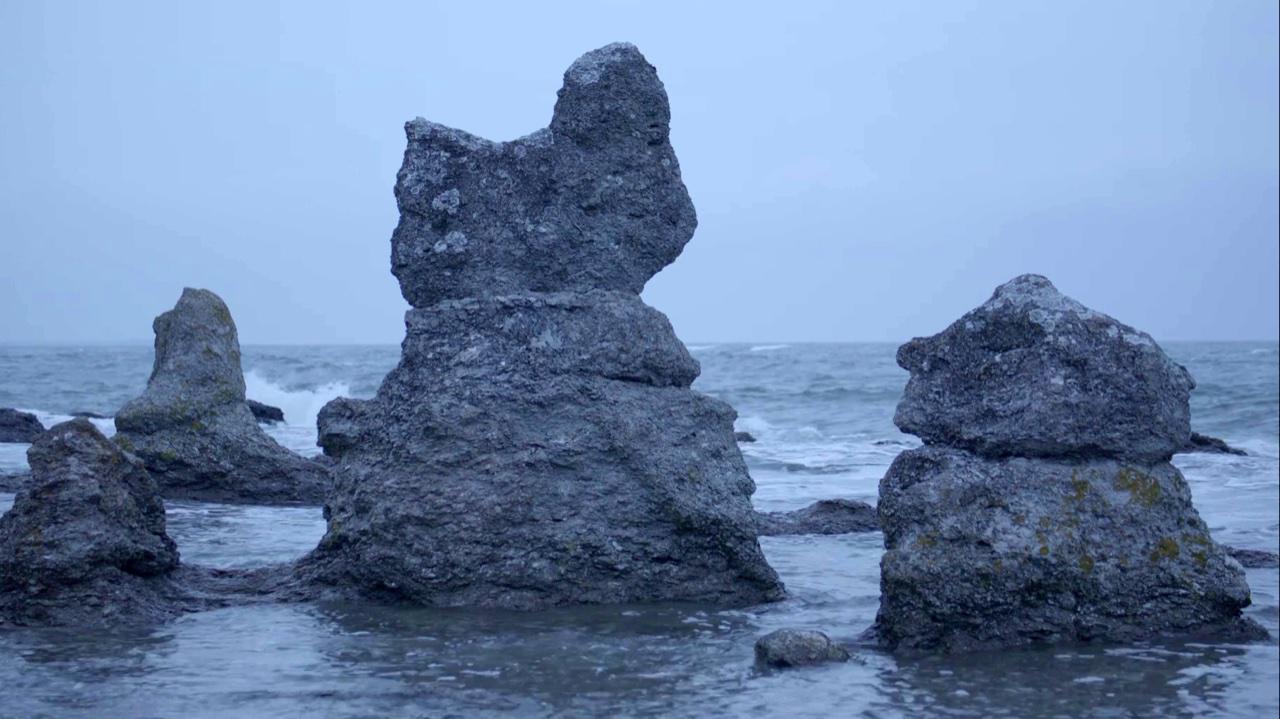 A film like awareness-raising therapy. Breathe deeply, taste stones. Reflections of light mark the transition into the world of dreams and fantasy. Edward Weki, a 75-year-old Sudanese man with Parkinson's disease, has the face of a landscape, with a greying beard like the wool of a Gotland sheep. Bergmanesque ghosts appear at Weki's bedside: Alma, a revenant of the nurse of the same name from Ingmar Bergman's film Persona, along with a female version of Death from The Seventh Seal, help him track down lost memories. Small things – two stones, a fishing hook – mediate between people and landscape and serve as carriers of stories, like time capsules or earpieces.

With greater attention recently given to Alzheimer's and dementia, biographical memory is increasingly coming into focus as an element that constitutes the ego. In this case, trauma and guilt may have buried the protagonist's images and emotions. Edward Weki plays Abanga, an African board game with marbles, rather than chess, with his life at stake. Like Bergman's crusader, he wants to use the reprieve to break through his isolation and come to terms with his loved ones. And death? He longs for mortality.

Georg Tiller developed the script together with his leading actor. He shot the film on Bergman's island of Fårö, on and off over a period of 12 years. His images of the archaic limestone rauk fields, with stones and spume, embody the presence of the past in the present and at the same time its transience. (Kristina Jaspers)

Translation: John Wojtowicz
Director's Statement

Godsterminal is a unique hybrid film that blurs the boundaries between fiction and documentary, both in its form and production approach. Shot over a span of twelve years, the film follows a group of protagonists on the remote Swedish island of Fårö, which was also the home of the renowned Swedish director Ingmar Bergman (1918 – 2007).

In this work, I incorporate the real-life circumstances of my non-professional actors, skillfully blending reality with fiction to create a sense of ambiguity between scripted and unscripted situations.

The fictional elements in the film are apparent, with a female version of Bergman's Death from The Seventh Seal (1957) making an appearance, and a game of life and death unfolding through the Sudanese board game Abanga, rather than chess. This playful utilization of Bergman's film tropes brings them into a contemporary context.

However, reality also plays a significant role, particularly with our main protagonist, Edward Weki, an elderly Sudanese man who genuinely suffers from memory loss and Parkinson's disease. We portray him in a real retirement home, but he is cared for by a fictional nurse named Alma, reminiscent of another iconic Bergman character—the young nurse from his film Persona (1966).

Edward Weki's story serves as the central narrative thread in Godsterminal, guiding us through the film and through the island, where his past traumas collide with the imaginary cosmos of the numerous Bergman films shot there.

As Weki endeavors to find a "quintessential memory," paralleling the Knight's quest in Bergman's The Seventh Seal, my film merges different temporal layers and cinematic references to create something truly unique. The more we witness the characters' struggles, the deeper we delve into their story, where Death already looms on the horizon.

Godsterminal is the concluding part of a trilogy born out of a fruitful collaboration with my protagonist, Edward Weki. It began with Persona Beach (2011), followed by Overnight Flies (2016), and now finds its fitting end with Godsterminal (2024). These three films, all hybrid creations blending fiction and reality, offer glimpses into fragments of a life—an immigrant life, some may say—but for me, it represents a quintessential European existence torn between memories of the past, the zenith of Modernist culture, and the harsh reality of assimilating into a society that often disregards the suffering of its fellow human beings.
Orig. Title
Godsterminal
Year
2024
Countries
Austria, Sweden
Duration
90 min
Category
hybride
Orig. Language
swedish
Subtitles
English