Film is more than film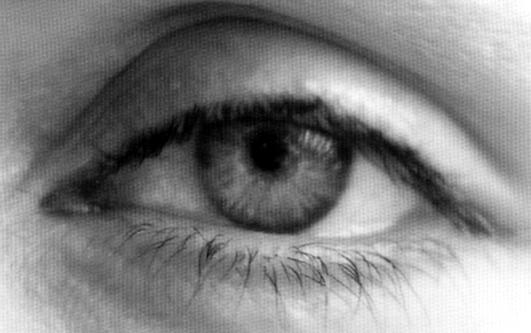 24 formula on the medium film

24 sound quotes on film history

25 frames of a blink of an eye.

Film is the word which fills the screen, white on green, silent. And then things begin to move, the writing rolls and the impressions crackle. More, however, towards the passages of the ear than in the direction of the retina, even when one sees an eye again and again. An eye - alone and larger than life - a dissected person and a film for the ears. Not only in the films of Gustav Deutsch and not only sometimes, cinema follows a convoluted logic.

24 terms associated with cinema - food for the ears and eyes - 24 two-second minimal films about audio-visual art. You read "memory" while an orchestra plays an emotionally loaded abbreviation representing all the flash-backs in the history of cinema. Read "propaganda" to a short war-like drum roll. "Language" appears and an unknown voice postulates, correctly, Godard. "Passion" is a short dialogue between screen lovers and "Light and Darkness" a salvo of percussive revolver shots. Cinema is a battlefield and an amour fou, a time between two blinks of the eye or an artificially delineated territory between two signal beeps.

Perhaps this is an advertising film, but it is one which leaves its goal behind because in a few seconds, thousands of aspects of film watching, hearing and loving are packed in a nutshell - compressed "cinephilie".

(Stefan Grissemann)


"A film is a girl and a gun": When Elisabeth Büttner saw the trailer of last year´s VIENNALE, she remembered Godard´s words and wrote about them in a review. This gave me the idea of searching for similarly reduced and absolute theories, formulas and slogans about film. 24 of those slogans, accompanied by 24 2-second-long "quotes" from movie soundtracks, interrupted by 24 frames of eye movement, framed by the phrase FILM is more than FILM.

(Gustav Deutsch)
Orig. Title
Film ist mehr als Film (Viennale Trailer 1996)
Year
1996
Country
Austria
Duration
1 min
Category
Avantgarde/Arts
Orig. Language
German
Subtitles
English