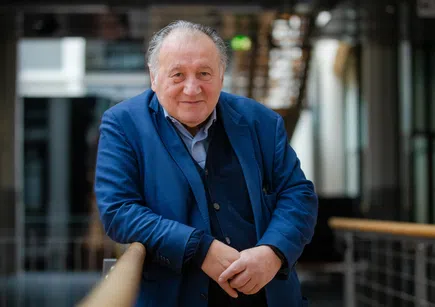 * 1944, Ukraine

Artist, curator, art and media theorist.
Born 1944 in Odessa; studied literature, film, mathematics, medicine and philosophy in Vienna and Paris. 1976-81 editor for »Theorie der Form«; 1981-84 guest professor at University for Applied Arts Vienna; 1981 guest professor at College of Art and Design in Halifax, Canada; 1979/80 guest professor for "Media art"; 1981 lector for »Theory of Perception"; 1982-85 professor for Photography at Gesamthochschule Kassel, Germany; 1984-89 associate professor for Video and Digital Arts, Center for Media Study, State University of New York at Buffalo, N.Y.; 1989-94 director Institute for New Media at Städelschule in Frankfurt/Main, Germany; since 1984 professor for Media Design at University for Applied Arts Vienna, Austria; 1986-95 artistic adviser Ars Electronica in Linz, Austria; 1992-95 artistic director Ars Electronica in Linz, Austria; 1993-99 Österreich-Kommissär for the Venice Biennial; 1993-99 artistic director Neue Galerie am Landesmuseum Joanneum in Graz, Austria; since 1999 chairman Center for Art and Media Technology in Karlsruhe, Germany.
Peter Weibel passed away in spring 2023.